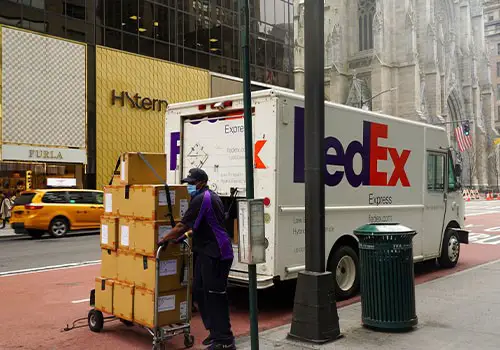 You might think you only have one option when sending a package through FedEx; however, that is not the case. FedEx offers many different services, including FedEx Ground, FedEx Express, FedEx SmartPost, and others. Each service has different rules, and each also has different delivery times and costs. FedEx SmartPost has gained popularity recently, especially among eCommerce store owners, for its affordability and reliability. So, just what is FedEx SmartPost service? Keep reading as we give you all the details on this service, including what it is, how it works, and how much it will cost you.
What Is FedEx SmartPost?
FedEx SmartPost is an affordable shipping option offered by FedEx that utilizes the United States Postal Service to make the last-mile delivery. SmartPost packages travel through the FedEx infrastructure until they are dropped at your local post office. Here they are handed over to USPS to make the final delivery to your home. The "last mile" of the delivery route is the most expensive piece of the delivery for FedEx, but the mail carriers run their route past your home every day. This is why it just makes sense to contract with USPS to have them make the final delivery of these packages.
While SmartPost is cheap, there are some regular FedEx features that are unavailable with this service. You cannot select the day or time of the delivery, and signature deliveries are not available. Similarly, the item is only insured up to $100, so this service should not be used to send valuable items. Most of the time, the shipping speed is a little slower than standard FedEx Ground as well. We will discuss delivery times in more detail later in this article.
How Does FedEx SmartPost Work?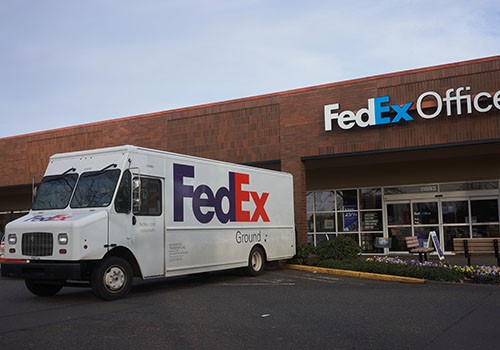 The FedEx SmartPost delivery service is relatively simple once you understand how it works. SmartPost packages start the delivery process just like any other FedEx package. You can either visit a FedEx location or print your own shipping label through a FedEx account at FedEx.com. Make sure that you select the SmartPost shipping option. Once you drop off your package, it enters the FedEx infrastructure. The package travels through the FedEx infrastructure all the way to your local area. Here is where things get a little different. Instead of bringing the package all the way to your residential address like FedEx home delivery, FedEx simply drops the package at your local post office. The U.S. Postal Service then places the package with your regular mail and makes the final delivery.
Even though these packages are handed off from one carrier to another during the shipping process, the service is extremely reliable. You should also know that since USPS is making the final delivery, FedEx SmartPost packages are subject to a few more rules than most FedEx packages. First, they cannot exceed 70 pounds. Next, the combined length and girth dimensions of the package cannot exceed 130 inches.
Though the items you can send through SmartPost are a little more restricted, the service does offer some great benefits when compared to traditional FedEx Ground shipping. First, you can have packages delivered to a PO Box using SmartPost. Many people wonder, "Does FedEx deliver to PO boxes?" Typically, FedEx does not deliver to PO boxes because they do not have access to them. However, since USPS is making the final delivery, these packages can be delivered to a PO box. Similarly, the service delivers to all military post offices as well, like APO, FPO, and DPO.
FedEx SmartPost Shipping Times
So, when can you expect your delivery date if you use SmartPost? Most SmartPost packages are delivered within 2 to 7 business days. The distance the package must travel will ultimately determine how quickly it can be delivered. If the package is traveling within the same state, then it will likely be delivered in about two days. However, if it must travel across the country, you can expect it to be closer to seven days before the package arrives.
Since the SmartPost service area includes more than just the contiguous United States, shipping times may increase for packages headed to Alaska or Hawaii. Similarly, you can use the service to send items to U.S. territories, like Guam, Puerto Rico, and the U.S. Virgin Islands. SmartPost packages headed to those locations, or a military post office, are also likely to take more than seven days. Thankfully, the service does include a tracking number so that you can see status updates as your package travels from one place to the next. You will also be able to get an estimated delivery date with your tracking updates.
Like most residential shipping with USPS services, SmartPost includes Saturday delivery at no additional charge. This is because USPS always delivers on Saturday, and your SmartPost package gets included with your regular mail once it reaches your local post office. In some cases, your package might even arrive on Sunday, especially if it is an Amazon shipment.
FedEx SmartPost Shipping Cost
So, how much does it cost to ship a package using FedEx SmartPost? Though the services are very similar, SmartPost is typically slightly more expensive than UPS SurePost. The pricing for a one-pound package traveling less than 150 miles is about $8. As the package weight increases or the distance the package must travel increases, the shipping cost will also increase. It can cost nearly $200 to ship a 70-pound package across the country using FedEx SmartPost. SmartPost service is best suited for low-weight packages. If your package weighs more than ten pounds, then FedEx likely has a better alternative that will allow your package to be delivered more quickly and maybe even cheaper.
Thankfully, there are no surcharges for deliveries to Alaska, Hawaii, or U.S. territories. Although the transit times to these locations may be slightly longer, this shipping service provides an affordable method for getting packages delivered to these places. FedEx SmartPost shipments are popular with eCommerce stores due to the affordability and wide service area of this particular FedEx service.
Advantages & Disadvantages Of Using SmartPost
As with most services, there are pros and cons to using SmartPost. Let's first talk about the advantages of the service. First, it provides an affordable and reliable method for residential delivery that provides full U.S. residential coverage. Next, you can use this service to have a FedEx package delivered to a PO box. SmartPost is one of the few ways to accomplish that feat. Finally, there are no residential surcharges for Saturday or Sunday delivery.
Although the service offers some great benefits, there are also a few drawbacks. The service does not include a money-back guarantee for late arrivals. Since it is not a guaranteed service, your package could be late arriving, and you would have no recourse. Another drawback is the fact that signature proof of delivery is not available. Similarly, there is no declared value available either. For these reasons, people do not typically send valuable or expensive items through SmartPost. Finally, SmartPost does not allow the ability to redirect your package and have it held at a FedEx location.
FedEx SmartPost VS. FedEx Ground Economy
So, what is the difference between FedEx SmartPost and FedEx Ground Economy? Nothing! These are actually the same services. FedEx has recently changed the name of their SmartPost service to Ground Economy. Other than that, there are no differences. Ground Economy still offers the same features and pricing as SmartPost. Since this is a recent change, you are likely to still see the SmartPost name from many shippers and online businesses. However, FedEx now recognizes the service as Ground Economy. It is still an affordable and reliable method for getting packages delivered – even to a PO box. USPS still makes the last-mile delivery to the final destination on Ground Economy packages.
The Bottom Line
FedEx SmartPost is an affordable shipping option that creates a partnership between FedEx and USPS. FedEx delivers the package to your local post office, and USPS performs the last mile delivery. The service is a little slower than traditional FedEx Ground service, although it is cost-effective and reliable. If you have a time-sensitive package, you should likely look for other options since SmartPost is not a guaranteed service. However, it is a great option for many types of deliveries.
Frequently Asked Questions
Is FedEx SmartPost faster than USPS?
Typically, FedEx SmartPost is slightly faster than USPS retail ground or first-class mail service. Most SmartPost packages are delivered within 2 to 7 business days. Since the package travels through the FedEx infrastructure most of the way, it usually moves a little faster than a USPS package does. However, if you are using an expedited service from USPS, like Priority Mail, then USPS will be faster.
Is FedEx SmartPost reliable?
Yes, FedEx SmartPost is extremely reliable. Both FedEx and USPS are reliable carriers who take great care in ensuring their packages are delivered correctly. Very few packages have delivery exceptions when using SmartPost, and FedEx customer service is excellent about getting any issues corrected. If you need to send a package, you can rest assured that SmartPost will get the package to its proper destination.
How do I track my SmartPost package?
FedEx SmartPost tracking works just like any other FedEx shipment. Simply head over to the FedEx tracking page at FedEx.com. Enter your tracking number here, and the system will return the most recent status update about your package. Once USPS takes over the package, you should still see updates until the final delivery has been made.
How do I know if my package qualifies for FedEx SmartPost?
Many packages qualify for SmartPost service. First, the package must weigh less than 70 pounds. This is because USPS can only handle packages that are below this limit. Next, the combined length and girth of the package cannot exceed 130 inches. Again, this is a USPS limitation. Finally, all U.S. residential addresses qualify for SmartPost service – even PO boxes! You can even send packages to Alaska, Hawaii, military post offices, and some U.S. territories. So, if your package meets these criteria, you can send it through the SmartPost service.